It's finally Friday again - so it's time for Five on Friday - although this week it's really Four on Friday because honestly, my brain feels pretty shot and I cannot think of five things! Pretty rough, huh? I guess it's a good thing the weekend is only a couple hours away....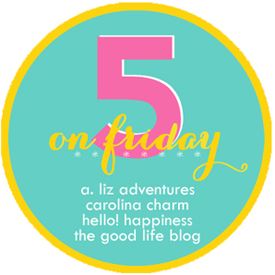 One
. Amazon Fire HD 6 - I went right ahead and got myself a new tablet last week; I'd had a Google Nexus 7 and while it worked fine, it is over three years old and technology is such a changing thing. I noticed on Amazon that they had tablets for a really reasonable price, did some research on the different tablets they offer (plus - both my Mom and sister have Amazon tablets) and decided on the Fire HD 6. It arrived before the blizzard and even though I've only had it about a week and I'm still figuring out bits and pieces, I have to say I'm 100% pleased with my purchase!
Two.
Spring - Is it too soon to think about Spring? I hope not...I certainly am. I don't know about your neck of the woods, but here in the Northern Virginia there was snow right up until almost April last year. I'm really hoping that isn't the case this year....although I've heard some "people" say we are going to get hit hard with snow in February. Because this past week's almost 4 feet of snow isn't being "hit hard"? Eek! I sure hope that little groundhog doesn't plan to see his shadow on Tuesday...
Three
. London - Ha! I know, I only came back a month ago! I absolutely miss so many aspects of lovely London; most especially I'd absolutely kill for a bowl of Potato and Leek soup from Prince of Wales Pub and I'd definitely take another Sloe Gin Fizz from Punch's Tavern. It seems like now that we've returned from our wonderful trip, I keep finding a million places we missed! Isn't that how it always works out though? Since I won't be returning to London anytime soon (that I'm aware of, ha-ha) I love following LONDON on Instagram. Awesome pictures that let me take a daily glimpse at lovely London.
Four. ....
I've got nothing, ha-ha!
Five
. Fitness Friday - Not much to post here this week. I am feeling like a definite failure...but I know I can overcome that feeling. I've made some strides in the right direction though; let me just say that 2016 hasn't kicked off the way I'd thought it would, exercise wise...but that's mostly due to my lack of commitment. I've decided to jump back into using ViSalus and I plan to start that on February 1st and I'm also planning to get back to my exercise routine. So - I promise this post will be "better" next week!
If you'd like to do Five on Friday (not Four on Friday like me....) you can join in. Just copy the Five on Friday logo and write up five things on your mind, five things you are loving...really whatever five things you'd like and share them. I hope everyone is having a happy and less brainless Friday than me!