Friday...that sweet sweet day that signals the start of another weekend. How I love to see Friday arrive on my calendar. So; with this, one of the loveliest days of the week also come five things that I'm thinking on this week.
One.
I Bought a Couch - Oh yes I did! I've looked here and there and I thought last Friday that I'd surely found the couch for me.... But then, oh then...on Sunday afternoon as we were headed back to the country from the big city of DC, we stopped at World Market, And well; that's where I stumbled upon
MY
couch. I thought I knew what I wanted and then I saw The Abbott and was pretty much certain it was what I wanted.
After a quick look at just one last furniture store - I knew The Abbott was what I wanted! The fact that it was on sale and qualified for free shipping certainly didn't hurt either! It was all set to ship in two weeks, which was perfect...and I got the notice that it shipped last night! Ha! Not sure where I'll put it until the big move in about 35 days...but I guess I'll figure that out when it arrives!
The Abbott - in Dolphin
Two.
I Also Bought a Coffee Table - Because I was in the market for a coffee table...and when I was in World Market and found THE couch...I also happened to find THE coffee table! I love the rustic finish and the hairpin style legs; so much so that maybe one day I'll buy the coordinating pieces. For now, I'm all set to try my hand at "finishing" an end table I already own so that it will match the coffee table.
It's also already on it's way...so we may have both boxes and furniture stacked around the house for the next few weeks! But - at least I got it while it was on sale, right?
The Hairpin Table
Three.
My Monster is Complete - And when I say "monster" it's in the sense that people say "you've created a monster" and I am so pleased with what I've created. It's no little secret that I love the Washington Nationals something fierce...and going to a game with my little sister and hoping she enjoyed it was a dream I had...
Well - she's now been to two games with me and I was fairly certain that I'd created quite the fan in her. On Thursday I received a text message from her that let me know the transformation was complete. You see...any Nationals fan worth their salt knows that Mets fans are pretty much the worst*... With that one little text, I knew that my Nationals loving, Mets snubbing baseball fan was complete. And I'm just so pleased. Hehehe
Now we just have to start planning a baseball weekend and we'll be golden!
Four.
Nationals Baseball - Let me tell you; it has been a good seven days of baseball. Oh my yes it has. You see; I'll take this all the way back to last Friday night when the Nationals turned the very first 3-3-5 triple play in MLB HISTORY. You read that right - in the history of the game of baseball. It was also the first triple play in Nationals history and so that was just delightful. It was also delightful that the Nationals went on and won that game.
The Nationals split the series with the Giants out in San Francisco and then cruised into Arizona and swept the Diamonbacks! As of today; the Nationals have a record of 64-44 records, which is good enough for the 2nd best in all of baseball behind only the Cubs. They are 20 games over .500 and yea...they're basically just playing really good baseball. Plus: Daniel Murphy was named National League Player of the Month for July (he also won that honor back in May) and Stephen Strasburg won National League Pitcher of the Month for July. We also added Mark Melancon as our closer just last week and I'm feeling like these are all just
really good
things...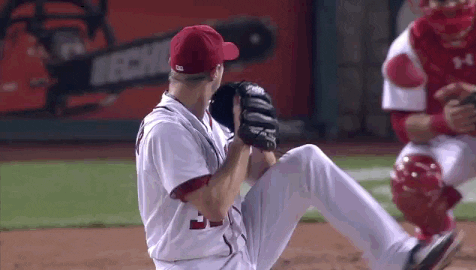 Five.
The Fitness - It has been going good this week! I'm pleased to announce that as of Thursday, my scale tells me I've lost 3.8 pounds and well...that just motivated me so much! I've embraced the elliptical this week because honestly; on Monday it was too warm to walk outside and I just kept going back to that machine each day after...ha-ha!
I decided to return to a tried and true method of portion control/healthy eating known as ViSalus. The powder is high in protein and when mixed with almond milk and a variety of fruits (and some veggies) makes a tasty and surprisingly filling shake that I have for breakfast and lunch each day. I'm feeling pretty good on the fitness, health and wellness front...so I'm just going to keep on going!
So - that's all I've got/what I've got for this first Friday in August. We won't even go into how I cannot actually believe August is here because that's a whole different can of worms! Until next time, I hope you have a lovely weekend and if you're of the blogging mind - feel free to link up with any one of the blogs mentioned above!



*I don't actually believe ALL Mets fans are the worst...that's just good natured rivalry rearing it's head. Granted, I also haven't met a Mets fan I liked yet...but maybe someone will prove me wrong!