Let me level with you - if you've read this blog even just a little bit, you have to know that one of the dominant things about me is that I LOVE (love...love, so much) to travel. I'm not wild about flying, but I LOVE to travel. Give me a destination and I'll embark happily on the journey to explore "uncharted" territory.
As Autumn and Winter arrive, I'll be traveling here and there and I thought I'd share a few of the places we'll (because of course Jeff & Ginger are coming along too...) be going in the coming months.
September
Hershey, Pennsylvania
Now - our family has been to Hershey many moons ago - I mean, seriously. I can't really remember exactly how old I was but it was during Spring Break and so if that was still a thing I was obviously in high school or college. Oh..the days of yore..
Hershey literally smells like chocolate. I can't impress this upon you enough; when the breeze blows the right way, the town smells like chocolate. It's amazing! Our last visit was in March and so there wasn't a whole lot open - March in Pennsylvania can be pretty chilly. I'm not sure what we'll be doing all weekend but I know Hershey Park is playing a big part. I'd like to humbly offer the suggestion to visit Hershey Gardens as another sight to see. Any takers? Parents, do you have thoughts? They may already have other things planned...
I'm sure we'll also pay Chocolate World a visit once more and stop in at the Hotel Hershey and already there seem like so many things to do and so few days to do them! Whoosh! Did I mention they have outlets... *sigh* See you soon chocolate town!

Washington, DC
Okay - I know you're reading this one and thinking "you live an hour from DC...is this really making the list?" And yes, while DC is the closest city to me these days and I've probably been into the city at least 15 times since I moved to Northern Virginia, I hope I never lose the sense of awe and wonder that DC inspires in me.
I am full on
in love
with DC - I love the atmosphere, the monuments, the architecture, the hustle and bustle of the nation's capitol and yes, I even love the grungy old Metro. What can I say? I absolutely love being in DC and there is always something happening! Of course our weekend in DC will start with - what else? A Washington Nationals baseball game! It will be one of the last games of the season and is also Air Force Night at Nationals Park. Saturday will be filled with the air show at Andrews Air Force Base - I'm so excited to see the Thunderbirds perform again - it's been forever!
I don't really know what else we'll manage to squeeze in; I have big plans to make the round of the monuments at sunset/early evening and I've read that
Old Ebbitt Gril
l is an excellent spot for brunch, so maybe we'll squeeze that in? I'm sure whatever we do, it will be amazing!
Does someone want to take me on a trip in October? I mean...it IS my birthday month!
Headed back to the old "homestead" to celebrate Thanksgiving - I think that sounds just fine and dandy! When we go to MS in November, it will have been exactly a year since I've been to MS! I can't believe it! I guess I've been busy living life here in Virginia and I just haven't had the right time or the number of vacation days needed to head South! That changes in November though!
I honestly have no clue what all we'll be up to in MS - I'm SO excited to finally get to see my little sister's house! More importantly, I'm SO excited to get to see my little sister!! I haven't seen her since May! I have no doubt we'll see lots of family and hopefully quite a few friends, get plenty of catching up done and have a delicious meal (or two) together. Lindsey - I hope you're writing down that recipe for Pumpkin Lasagna!
I also think there might be a certain football game involved in this return visit home - maybe a MS State football game? Against that school from up North that shall remain nameless, ha-ha! I have no doubt between family, friends, food and football this trip will be absolutely wonderful!
Oh yea - I did save the best for last! I mean, there aren't too many things I could think of that would be more wonderful than celebrating Christmas and ringing in the New Year in jolly London town! Can we say dream come true? Bucket list - check mark added? All of those things and more! I absolutely cannot wait!
Do I know what we'll be doing in London - no. In short though, I think it's safe to say we'll be trying to see it all, do it all and take it all in! Certainly there are things that we definitely have on the list: The Tower of London, The London Eye, Buckingham Palace, the Harry Potter Tour at Warner Bros. Studio, afternoon tea, Stonehenge, 221B Bakers Street, The Globe...so many things and I don't know if I've even begun to touch on them all. Suffice it to say, I don't think we'll run out of things to do!
Perhaps we'll even make it out to the countryside and get to take a peek at Highclere Castle? Who knows? I cannot say enough though how excited I am for this trip. Heck - I'm even excited to fly on that crazy big, double decker Airbus A-380! Who am I anymore?? It's London - London has done this to me...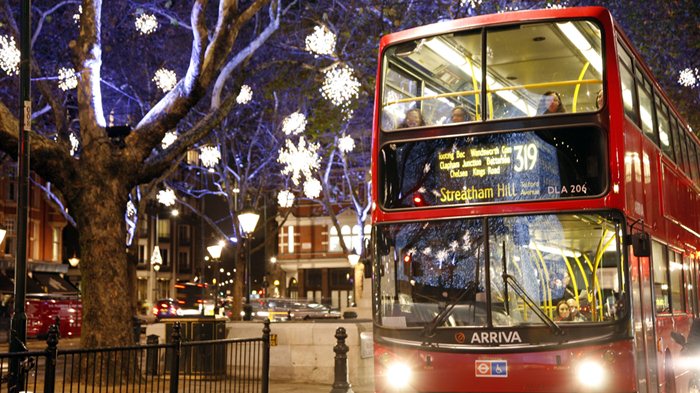 Do you have any trips you're looking forward to in the coming months?
Have you been to any of these places and have somewhere you'd recommend?