There are four months left in this year - just four. I don't even have any words...so I'll just discuss the things I was into this past month.
Books I Read
The Maze Runner by James Dashner -
This book was recommended to me by a young(er) girl who used to work in my office...well, I guess it isn't my office anymore either. Oh well. She told me she thought I'd really like it, so I loaded it onto my tablet recently and it didn't take long to get fairly engrossed in this book! The story follows Thomas, a young boy who finds himself in the Glade - an area of land populated only with young boys, boxed in on each side by a strong rock wall and a maze on the outside of that. Thomas cannot remember his life before he was put into the Glade but he knows that despite the horrible creatures in the maze, he wants to become a runner and help find a way out. It didn't take me long to read this - there are apparently three more in the series but they'll have to wait because they got side-lined by another series I stumbled on.
You betta run!
Outlander by Diana Gabaldon-
This is a series of eight (so far) books that follow the lives of Claire Beauchamp and James Fraser; Claire is a WWII nurse visiting Scotland on a second honeymoon. When she touches the standing stone at Craig na Dun, she finds herself thrown back in time to the Scottish Highlands of 1743 where she is forced into marriage to protect herself. She soon falls in love with her new husband and must try to decide if she will go back; if she can even get back to 1945 and her husband Frank or stay and live out her life with her new husband Jamie. This is the kind of series that sucks you in and makes you want to do nothing but read and read and read....at least, that is what it's done to me.
Only 7 more to read...
Dragonfly in Amber by Diana Gabaldon -
The second book in the eight book series; this book follows Jamie and Claire as they take on the intrigue and entertainment of the French court while trying to befriend Prince Charles Stuart of Scotland, in an effort to curb the uprising that will culminate in the battle at Culloden Field. We are also introduced to Jamie and Claire's daughter Brianna, born in 1947 after Claire had to flee into the future,through the standing stones to save the life of herself and her unborn child. After Frank's death in 1967, Claire takes Brianna to Scotland to tell her the story of her true Father, hoping she can help her child reconnect with her Scottish roots.
It's not that confusing really...but writing this little summary makes it seem that way!
And now there are only 6 to read...
Books in the Queue
Voyager by Diana Gabaldon -
The third book in the Outlander series...because there are eight...
Drums of Autumn by Diana Gabaldon
- The fourth book in the Outlander series...
The Fiery Cross by Diana Gabaldon
- The fifth book in the Outlander series... It's safe to say I'll just be reading these until I am done with all eight of them. That's all.
Can't Miss TV
Outlander -
The TV show that has been created from the novels of the same name; the first season premiered on Starz on August 9th and I've been captivated from the first episode. The first season of the show will have 16 episodes and follow the storyline of the first book - so far only four episodes have aired but this show is a case of perfect casting. Catriona Balfe and Sam Heughan play their characters perfectly; it helps of course that Sam Heughan is a Scot, born and bred and Catriona is an English lady through and through. I've loved the show so far and can't wait to see the rest of the season!
Oh me - something else to be hooked on. Look at that Scottish man...*sigh*
True Blood
- Well, the show I've been watching for seven years now came to an end on Sunday, August 23rd in a finale that; well, while it didn't irk me the way some other finales did (How I Met Your Mother, I'm looking at you...) it also didn't blow me away. I'm not sure what I expected but I suppose the ending they gave us wasn't it. I am so happy that Jessica and Hoyt were able to have their happily ever after; they've always been one of my favorite couples on True Blood. And of course, Eric and Pam ended up right where they should have been: together, filthy rich and continuing to be fierce! I was sad to say good-bye to the residents of Bon Temps...but it was time.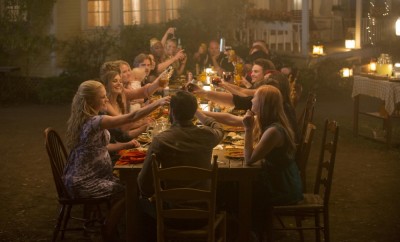 Oh yeah...Sookie ended up married to random guy whose face we never saw. Go figure.
Movies I Watched
Guardians of the Galaxy
- Listen, no one is more surprised than me that this movie was actually great! I have seen every Marvel movie to date and so I wasn't going to leave this one out but I was strongly apprehensive about seeing it. My friend Jenni mentioned she wanted to see it too but also wasn't sure, so at least I had someone in on the trip to the movies - and then reviews for it started popping up and everyone loved it, so by the time our Saturday afternoon trip to the movies came, I was excited. In short - great movie. Absolutely hilarious with a lot of heart; it will have you cheering for the scrappy group of misfits that come from all across space to become the Guardians of the Galaxy. Go see it!
Rocket (the raccoon) may be the best character...all though Chris Pratt is delightful as Peter Quill.
How to Train Your Dragon: 2
- Part One of the two movies we saw on my first outing to the drive-in. This was a cute follow up to the first movie; telling all about Hiccup and Toothless (Hiccup is the boy, Toothless is the dragon...) battling to keep dragons free and out of the clutches of a villain whose name I cannot remember at present; a bad viking determined to build a dragon army. While not necessarily as good as the first outing, this movie was pretty fun and I enjoyed it. Plus - the guy that plays Jon Snow on Game of Thrones voiced one of the new characters. You know nothing, Eret son of Eric. Ha!
Dragons are so cuddly when they're animated...ha-ha!
Planes: Fire & Rescue
- Part Two of the drive-in movie marathon (there were actually five but we only watched two) and another sequel. I enjoyed this; the humor in it was especially clever, but I think I enjoyed the first Planes outing a bit more. This story follows Dusty as he goes to Piston Peak National Park to learn to become a firefighter - the neatest part to me was the similarity between The Fuselage (the Plane's hotel in the film's National Park) and the Wilderness Lodge at Disney World. The movie was enjoyable and a must-see for anyone who loves airplanes.
Who doesn't love a plane good movie?
Brave -
In case you haven't noticed, this month was filled with animated movies. Not sure how that happened but all of them were good movies; this was certainly the best of the three animated movies I watched this month. I'm (very) late to the game on Brave but I certainly enjoyed it and will be adding it to my Disney collection. The movie follows Scottish princess Merida as she endeavors to change her fate and learns a valuable lesson in the process. I especially loved the Mother/Daughter element of this story and I'm so glad I got to watch it with my sweet Momma!
I need some of that volume that Merida has - I wonder what her hair secret is?
Music I Listened To
Guardians of the Galaxy Soundtrack: Awesome Mix Volume I -
The soundtrack to Guardians of the Galaxy; this movie had excellent music and so I decided I needed it for myself. It has songs ranging from "Ain't No Mountain High Enough" to "Come & Get Your Love" and of course, the song that was in all the trailers, "Hooked on a Feeling". Even my Mom commented that this was excellent music.
Outlander Main Title -
A very Scottish and haunting tune; it's only a minute and a half long but it's certainly very pretty. You can listen to it
here
if you'd like - very pretty. I've heard people describe bagpipes as sounding like a cat dying...but I have to say, I absolutely love them.
Yummy in my Tummy
Fresh vanilla and raspberry custard from one of the many (I swear, there are about five) creameries and ice cream shops in Harper's Ferry - it was delicious. I cannot believe a town as small as Harper's Ferry has that many places to get ice cream and custard...and all of them have lines. This stuff was the best though!
Gouda cheese from a nearby farm and creamery that I cannot for the life of me remember the name of - we bought it at the Tastes of Shenandoah festival at the Museum on the Shenandoahs and I could have eaten it all in one sitting! I was nice though, I shared.
What I'm Looking Forward To in September
The Star Spangled Spectacular at Baltimore Harbor in a little less than two weeks! The week long festival takes place at Fort McHenry and celebrates the bicentennial of the Star Spangled banner. We plan on going and spending our Saturday perusing Fort McHenry, seeing ships in the harbor from bygone eras, watching an air show performance by the Blue Angels and ending the night with a symphony performance and fireworks. I can't wait!
The Roberts are visiting us the last weekend of September and I cannot wait to see them! It's been over a year since I've seen one of my best friends; she's certainly been one of the friends I've had the longest, and I can't wait to see her and her family. I also can't wait to meet her newest sweet little girl, Lyllian! I know we are all going to have such a splendid weekend together!
So - that's all for the month of August! I can't believe how fast this year is flying by...but then, I feel like I say that every time I post one of these. Ha-ha!